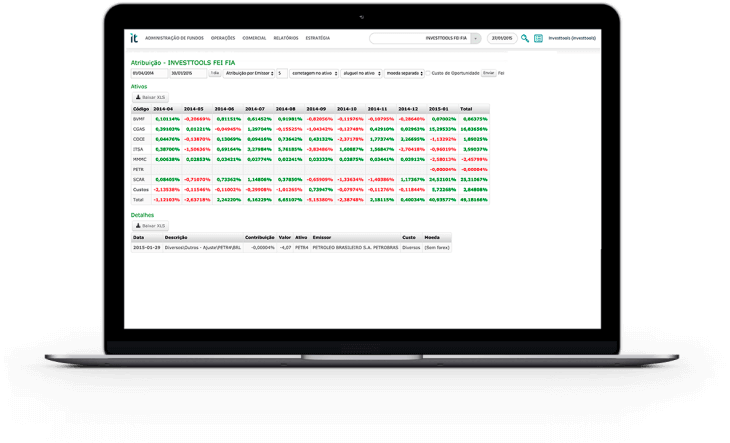 FULL CONTROL OF YOUR ASSET MANAGEMENT OPERATIONS
Perform It enables total control of your asset manager's investment flow, freeing you and your team to concentrate on the strategy end of the business. With Perform It, asset managers will have greater control over operations, without losing focus on the main objective. Our focus is on automation and security. Our ERP software monitors the entire flow of the asset management firm, counting on modern interfaces with administrators, brokers, among others. Perform It controls a 360-degree operational flow, from Back Office processes, going through Middle Office and Front Office.
AUTOMATED SYSTEMS
100% automated system, without the need to fall back on spreadsheets.
API
Powerful API, allowing asset managers to develop new screens and functionalities and integrate them into the system menu.
DUE DILIGENCE
Modern tools to support the Due Diligence process.
HIGH PERFORMANCE TEAM
Team trained and updated constantly, with high approval from customers.
EXTREMELY HIGH SATISFACTION RATE
Clients that hire PERFORM IT usually stay with us for long spells.
CUSTOMIZED INFRASTRUCTURE
Customized infrastructure for each client, where he has his own environment.
Functionalities
BACK OFFICE
Easy and innovative interface for relationship with administrators; Personalized interface for asset managers; Daily double check of positions and portfolios.
MIDDLE OFFICE
Complete reports for the asset manager commercial teams; Distributor Rebate Reports; Focus on Compliance.
FRONT OFFICE
Fluid visual and operational control of the portfolio grouped according to each client; Performance attributions for investment fund managers; Billing + pre trade compliance + allocation through complementary plugins.